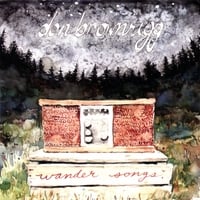 "Music with spirit. Music akin to roots, folk, blues, and country, Don Brownrigg is a musician's musician…"
I'd like to take credit for finding this little gem but it was my lovely friend Chad from Canada that sent me this album along with a few others several weeks ago. We both have a love for music and more so a love of finding new talent that we can share with each other. I had Don's album on my list of "albums to review" and never got around to it. I could kick myself now for not pushing play any sooner. This album is absolutely beautiful. It is a perfect melting pot of folk, blues, and country. He has a voice that stays with you long after the last tune has been sung. Needless to say he had me at the first chord. Thanks Chad and thank you Don for taking the time to do this little interview with us. I asked Don what song he would like for us to share with everyone and he said for me to choose…..ah the daunting task…they are all so good and I have my favorites but don't just take my word for it, buy the album. (I'm having trouble uploading a song, will post it up later)
YCD: I was reading in your bio a quote that you are "inspired by people and natural things" and that you feel you are "living a generation or two too late", is that still how you feel today?
Don: Yep, probably even more so! I've met a lot more people and have seen a lot more places since that first interview. I like the intimacy of simplicity.
YCD: Do you write your own music? What inspired the song "About Her"? When I first heard this song my heart skipped a beat. I wondered if anyone would ever feel this way about me. It's truly a beautiful song.
Don: Thanks!
Yes, I write my own music. 'About Her' is an old song of mine. It was one of those songs that 'wrote itself'. It just uses simple phrasing and chord progressions – but that's all you need to get the right point across – if you are conveying the right mood and saying the right words. The song has connected with a few people on a different level and for that I'm very fortunate.
YCD: I always tell people I have an "A" job and a "Dream" life. Sometimes I feel that we are all in search of that thing that truly makes us happy and fulfilled. Would you say that music is your "dream" life? If you weren't a song writer what would you be doing now?
Don: I am living my dream as my career. In a lot of ways, it is work and a job like any other – but there is not enough time in the day when you live your career. I've worked lots of jobs but that's behind now. I'm lucky that I've discovered this thing that I can put all of my energy into and I can't wait to wake up in the morning to work on it. I'd like for everyone to find that thing in their life. It's tough. Discovery of that one thing in your life means you must take risks and just go for some things….step into the uncomfortable and un-ordinary, something you want to try, something different you need to do, etc. I hope more people do that. If I weren't a song writer, I'd probably be something really practical, like a chiropractor or a carpenter.
YCD: What songs are you inspired by or cannot live without at the moment, yours or someone else's?
Don: I am living in a city (Halifax) that's known throughout the country as being a musical hotbed. I'm fortunate enough to be a part of this thriving community and I am inspired by the talent, vigor, and hard work of the musicians here. I've gotten to work on albums by Benn Ross, Rich Aucoin, Jesse Dangerously, Caledonia, and Tanya Davis. Each one of those acts aren't anything like each other and aren't similar to my music and that's what makes this community beautiful and healthy. The support system rather than any sort of competition in independent music allows a person to be so comfortable in what they're doing because they have such a support system in their colleagues – we know we have our friends there to help out in any way, be it professionally or personally.
YCD: Who has been the biggest influence in your musical career?
Don: Tough question. I've always been a very practical person so when I was getting more and more serious about music as a career, my parents could have been more weary but they weren't at all. They urged me to follow through with this music thing – to do what I wanted – to work hard – to see how it goes, at least. In the early stages, I wasn't really telling people who knew me that I was playing music, that it was my dream, that I needed it. Their support from the get-go meant a lot.
Also, a little dark and morbid as it may seem. I've had a few people in my life die well before their supposed 'time'. Also, I've never thought I was to live very long and I've always had this dream to make music. So I guess having those people's time end so quickly propelled me in a certain way. Make my time count for me, 'go for it', why not?
YCD: With all the changes and uncertainties going on in the music industry today, what inspires you to keep doing what you're doing and why?
Don: I'm not sure. It is tough and a struggle in a lot of ways. Songwriters love and need the drama, don't we? Like I mentioned earlier, if you're living your dream as your career, a lot of the tough times can be absorbed easily. There are incredible highs and stifling lows. Each step is uncertain but once you're confident the music you're making is establishing a connection, it is worth it. The community of professional musicians I've surrounded myself with inspire me to continue. Fans inspire me to continue.
YCD: Wander Songs was released in 2007, is there anything new you are working on now?
Don: Yep, I'm still writing for another short while. In early 2009, I'll start organizing for recording again. It's a big process but I'm soon ready again. For now, I'm glad to be jumping in on other acts' recording projects and shows when I can. I started off as a side-guy so I still have that. I also love to sing back-up and I'm doing more and more of that, on a more behind the scenes/supportive level. I need to support those people as they are supporting me.
YCD: For those readers who haven't heard of you or your music before what would best describe your music?
Don: Organic, low-key, and created by one young unconfident fellow with a few good friends.
YCD: Thank you for your time. We are looking forward to sharing your music with everyone. I love your album it has such a timeless feel to it. I'm sure it will quickly become a favorite of our readers.
Don: Thanks a ton for having me!
Buy CD Baby
Official Website
MySpace
Sonicbids